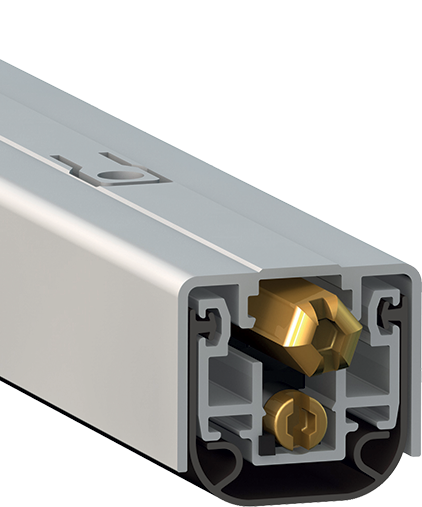 Standard measurements (mm)
Watch Instruction Video
Standard packaging
Cardboard box with 25 pcs + 25 standard accessory packs
Optional packaging
Cardboard box with 15 polyethylene bags with 1 pc + 1 standard accessory pack + assembly instructions
| | | | | | | | | | |
| --- | --- | --- | --- | --- | --- | --- | --- | --- | --- |
| Standard measurements (mm) | 530 | 630 | 730 | 830 | 930 | 1030 | 1130 | 1230 | 1330 |
| Max shortening (mm) | 100 | 100 | 100 | 100 | 100 | 100 | 100 | 100 | 100 |
Standard measurements (Max shortening): 530 (100), 630 (100), 730 (100), 830 (100), 930 (100), 1030 (100), 1130 (100), 1230 (100), 1330 (100).
FASTENING SYSTEMS
STANDARD
With pre-mounted screws
FEATURES:
Mechanism (PATENTED) with the parallel descent of the moving profile with gasket, characterised by the DUAL ADJUSTMENT (screw E: descent - screw R: incline) for a strong even pressure on the entire length.
COMPONENTS:
Extruded profiles in aluminium alloy 6060 - high performance wrap-around silicone gasket - elements printed in self-lubricating nylon + nylon reinforced with 30% glass fibre - threaded rods in burnished iron - 7 mm hexagonal button and Ø 6 mm brass bushing - coil springs in treated stainless steel - self-drilling 3.5 x 25 mm screws.
VARIATIONS ON REQUEST:

Button: round nylon, square nylon, bevelled nylon, rolling nylon (pivot).
Gasket: dual high performance silicone lamellar (art. AE p.40).
OPTIONAL ACCESSORIES:
Nylon plate: CA102, CA103, CA104, AE, CA201, CA202, CA203, CA204, CA205, CA207.
Insulating nylon plate with silicon gasket: PI001, PI002, PI002-R, PI003, PI004, PI005.
DOWNLOADS